Save the date!
The next SPIN meeting will take place in Oldenburg, the 5 and 6 January 2017. Check the website for more details as they become available.
---
The 8th Speech in Noise Workshop took place in Groningen, the 7 and 8 January 2016, followed by the SPIRE Workshop on the Saturday 9 January. The two workshops took place at Het Kasteel.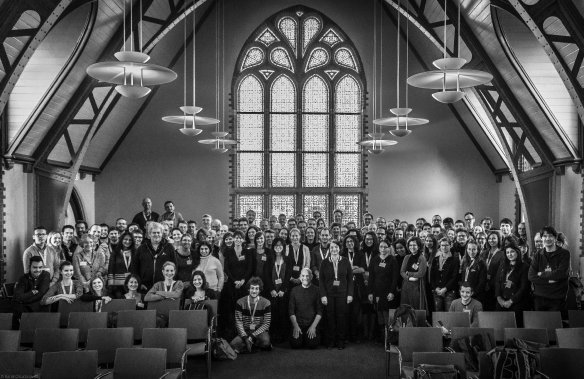 Click the group photo to see the gallery. All photos are © Karol Osuchowski.
---
Programme overview
This year's keynote speaker was James McQueen from the Radboud University, Nijmegen, NL:
Abstraction and adaptation: Key mechanisms listeners use to cope with speech variability
About 50 posters were presented, and the following speakers gave wonderful talks:
Mirjam Broersma, Radboud University, Nijmegen, NL
John Galvin III, University of California, Los Angeles, US
Theo Goverts, VU University Medical Center, Amsterdam, NL
Valerie Hazan, University College London, GB
Phillipp Hehrmann, Advanced Bionics, European Research Center, Hannover, DE
Jens Hjortkjær, Technical University of Denmark, Copenhagen, DK
Patrick Naylor, Imperial College, London, GB
Terrin Tamati, University Medical Center Groningen, Groningen, NL
William Whitmer, Institute for Hearing Research, Glasgow, GB
Ian Winter, University of Cambridge, GB
Check the programme as well as the list of poster presentations.